Aluminum Base PCB
Countermeasures for higher and higher heat generation from latest development of high performance IC chips become very important in PCB design, in order to realize designed performance and to maintain long life of products. Taiyo Kogyo offers "Aluminum Base PCB" using Aluminum and highly heat conductive sheet to handle this problem.
Advantages of Aluminum Base PCB
Aluminum Base PCB can save space for unit of heat generating parts by adding heat dissipation effect to its PCB.
Aluminum Base PCB can control temperature rise of pattern handling high current by combination of thick copper foil.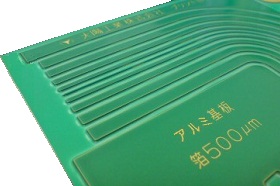 Specifications
∼Aluminum base PCB looks like PCB which is bonding PCB and Aluminum board.∼
Number of Layers		:1 layer
Copper Foil Thickness	:18/35/70/105/175/300/400/500µm
Base Material			:Insulating Layer,Common Prepreg,Highly heat conductive sheet
Aluminum Base Material	:1.0mm, A5052P-H34, 2.0MMA1100P-H14

Examples
LED Lamp
Electric Vehicle
Others