Combination PCB
Taiyo Kogyo could create Combination PCB, which can incorporate two different thickness (8.6 oz. for heavy copper foil, 1.4 oz. for regular copper foil) of copper foils in the same layer, using many years of experiences of mass production and of developments in high current PCB.
With our unique Combination PCB, two different functions of "High Current Power section" and "Control signal section" can co-exist in the same layer, while two separate PCBs are used with conventional technology of other manufacturers.
Benefits of our Combination PCB are reduction of assembly process and reduction of parts used, and Combination PCB has become most popular PCB at our company.
Also, Combination PCB is quite suitable for use with new and more compact size power devices such as GaN and SiC.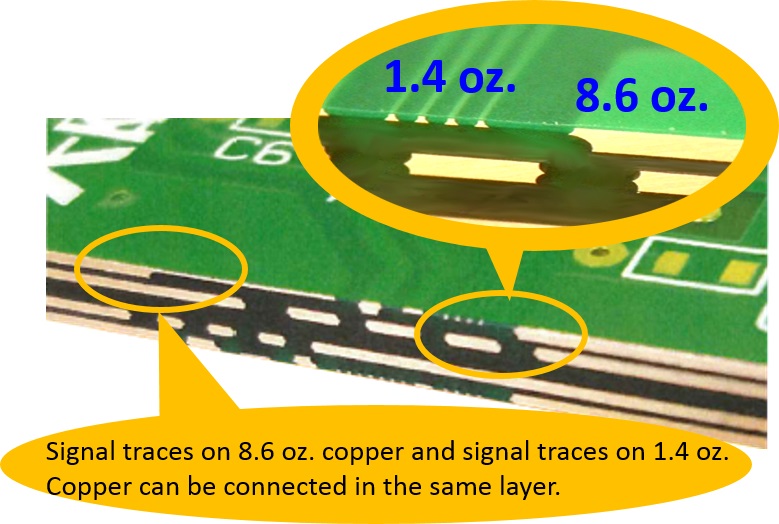 High power section and Control signal section can
coexist in the same layer in the same PCB.
Can offer very flexible design , because you can use different thickness of copper foils (like 8.6 oz. and 1.4 oz.) in any part of the board in the same layer freely.
No need to limit to two areas in one layer.
You can assign 8.6 oz. thickness portion(s) and 1.4 oz. thickness portion(s) as you like in any multiple areas in the same layer.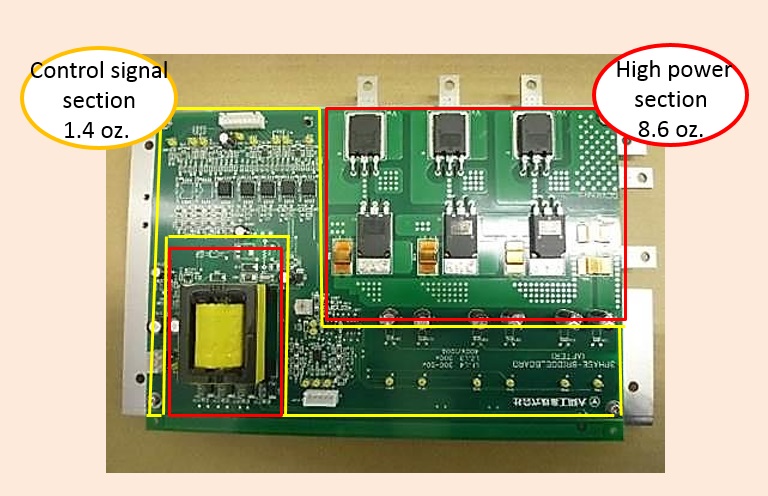 PCB highly suitable for use with Power Devices like GaN and SiC
Your problem when using GaN and SiC:
You want to use heavy copper PCB because of high current handling requirement.
But, you can not use heavy copper PCB due to limitation of minimum trace width and conductor spacing, with narrow pitch of the power device.

Our solution for you:
Use our Combination PCB Signal traces on 8.6 oz.
copper foil and signal traces on 1.4 oz. copper foil can be
connected in the same layer.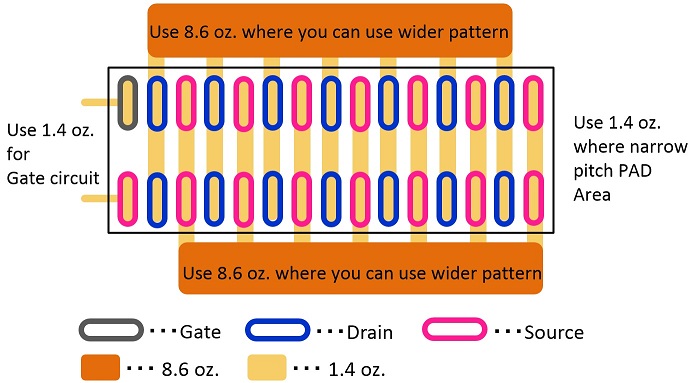 Specifications
Number of layers		:2-6 layers
Board Thickness		:1.3-3.5mm
Copper Foil Thickness	:External layer) 300µm
			 Internal layer) 18/35/70/105/140/175/210/240/300/400/500µm
Others			:UL listing is completed. →Click here for UL certification.
Copper Inlay		:Available
Usage
Dual Compressor
Car Electronics
Others