Bus Bar Embedded PCB
Conventional High Current handling PCB was expensive because thick copper was used on entire board, and cost of copper is increasing. However, we can reduce cost of such PCB by changing to Bus Bar Embedded PCB. And it becomes possible to assemble parts on bus bar by combining bus bar and PCB. Furthermore, you can get more effective heat dissipation by combining Copper Inlay.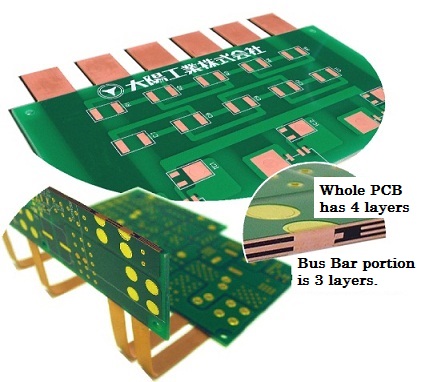 Advantages of Bus Bar Embedded PCB
PCB with a built-in ultra thick bus bar (500-2000µ)
Choices for shape of Bus Bar are available.
Regular parts mount is possible with Bus Bar Embedded PCB.
Bus Bar Embedded PCB also can obtain countermeasures for heat combining with Copper Inlay.
Bus Bar Embedded PCB can solve various problems occurring from High Current/High Heat.
Possible to place connectors at the edge of PCB from inside PCB layers (You can choose the connector layer from internal layer or external layer.)
External cable wire connections can be replaced by built-in wiring connections on PCB, this PCB can reduce number of parts and improving connection reliability.

Specifications
Number of layers		:2-6 layers
Board Thickness		:1.3-3.5mm
Copper Foil Thickness	:External layer) 300/400/500µm
			 Internal layer) 18/35/70/105/140/175/210/240/300/400/500µm
Others			:UL listing is completed. →Click here for UL certification.
Copper Inlay		:Available
Usage
Replacement of Bus Bar
Others