PCB capable of handling high current-Thick Copper
(105-240µm)
Conventional copper foil thickness of PCB for power supply was about 70µm.
However, Thick Copper PCB using thick copper (of 105-210µm thickness) is becoming popular now with growth of industry demanding high current handling capability such as "Industrial Robot", "EV" and "Hybrid Car".
Our PCB can handle high current, 30A-180A, which was not possible until today.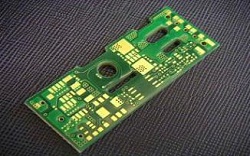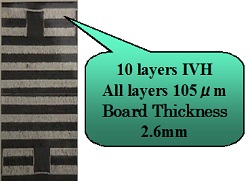 Advantages of Thick Copper high current handling PCB
♦Reducing Cost♦
Thick Copper PCB can reduce wiring work, number of parts needed, handling cost by replacing conventional cable wiring board.

♦Improving Reliability♦
Problem related to wiring connection and problem of wiring errors can be eliminated.
Products reliability can be improved because of efficient heat dissipation by thick copper foil.

♦More flexible circuit design is possible with our Thick Copper PCB.♦
More flexible wire pattern design is possible with our PCB, replacing conventional wiring circuit board.
Our high power handling PCB can accomplish compact size and space for circuit boards.
Enhance the added value of products.
Specifications
Number of Layers		:2-10 layers
Board Thickness		:0.6-3.5mm
Copper foil thickness	:105/140/175/210/240µm
Special versions		:PCB with IVH, BVH is available.
			  *combination PCB with copper foil thickness (18µ-70µ)
			  is available. 
Others			:UL listing is completed. →Click here for UL certification
Copper Inlay is available.
Examples of usage
Power supply for Industrial Equipment / High Efficiency Server power supply
High Output Inverter
DC-DC Converter
High Power Motor Driver
Human Android
Non-contact Feeding High Current Coil
A fuel Cell for Household Use
Lithium ion battery
High Current burn-in board
Others